S1E3 - The Ultulu Anomaly
1 year ago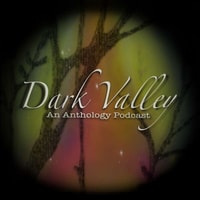 Ultulu Anomaly Credits
Content Warning: repetitive sound effects
Episode 3: The Ultulu Anomaly
In their long months aboard the Coalition Starship Emvue, the crew of 4 has grown numb to the potential danger of their current station. But they are about to discover, history can be no indicator when it comes to the anomaly they monitor.
This episode was written and directed by Mark Zurek
Captain Clark was played by Peter DeGiglio
Bannon was played by Emily Buza
Stripe was played by Scott Paladin
Lanski was played by Corvyn Appleby
The Narrator was played by Mark Zurek
Dark Valley is produced and edited by Elsbeth Denman
This podcast is recorded under a SAG-AFTRA Collective Bargaining Agreement.
It is made possible by the generous support of our patrons at Patreon.com. including: Ryan Astheimer, Charlie Neal, James Malloy, Joshua Denman, Calie Ann, Sylva, Honey Brea, Joshua Ryan, Maryann Mengak, Charlotte and Peter, Madeline Denman and Michael Bowman.
Please visit www.darkvalleypod.com to learn more about our show.
Sound Clip Credits: "UI Confirmation Alert, A3.wav" by InspectorJ (www.jshaw.co.uk) of Freesound.org
Find out more at https://dark-valley-pod.pinecast.co
This podcast is powered by Pinecast.